Ether Lysophosphatidylethanolamine Analysis Service
Creative Proteomics has developed a reliable and reproducible method using highly sensitive LC-MS/MS method for the rapid identification and quantification of LPE O- in different sample types, which can satisfy the needs of academic and industrial study in your lab.
Overview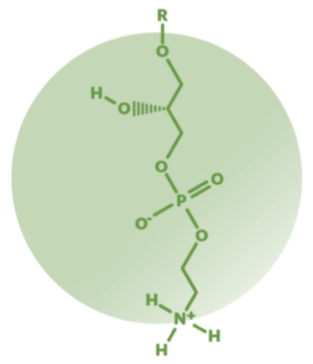 Ether-linked lysophosphatidylethanolamine (LPE O-) is a glycerophosphoethanolamine, a type of glycerophospholipid. Their structure consists of a glycerol backbone connected to fatty alcohols through ether bonds and phosphoethanolamine molecules. Fatty acids can be variable length, hydroxylated, and contain double bonds. Little is known about the biological functions of ether-linked lysophosphatidylethanolamine, but they are precursors of ether-linked phosphatidylethanolamine. In the human retinal pigment layer that nourishes retinal visual cells, LPE O- is related to the formation of diretinoic acid. Bisretinoids are a type of fluorescent molecules that are formed in photoreceptor cells and cause certain retinal diseases. Therefore, it is suggested that LPE O- plays a role in retinal health.
The combination of MS instrument and liquid chromatography (LC) can effectively separate target lipid molecules from complex samples. High-quality and accurate lipid level analysis helps to study the changes in the content of LPE O- under physiological and other pathological conditions, and accelerate the analysis of biomarkers and related disease mechanisms.
Advantages of Our LPE O- Analysis Service
One-stop services, including lipid extraction, lipid detection and data analysis. Cutting-edge apparatuses, reliable data and reproducible process.
Accurate quantification of LPE O- with high resolution UPLC-LC-MS.
Flexible statistical analysis and bioinformatics analysis.
List of Detectable LPE O- at Creative Proteomics
| | | |
| --- | --- | --- |
| LPE O- 18:1;0 | LPE O- | LPE O- 16:0;0 |
The Technical Process of Our LPE O- Analysis Service

Fig 2. The workflow of ether-linked lysophosphatidylethanolamine analysis service
Structural details: species level
Precision: pmol & mol%
Variants identified: >25
Delivery time: 2-6 weeks
Sample requirements
Blood/plasma: 500 ul/sample
Tissue: 200 mg/sample
Cells: 1x107/sample
A minimum of 3 replicate plates or wells per condition are required.
After the sample is collected, it will be stored at -80°C immediately and transported by dry ice.
Tubes should be clearly labeled with sample identifiers and include a hard copy of the list of samples to accompany the shipment. Please include all available sample information when shipping samples.
Deliverables
Experimental procedure
Parameters of liquid chromatography and MS
Purity analysis report
MS raw data files and MS data quality checks
Hexylceramide quantitative result data
Custom analysis report
With years of experience in lipidomics analysis services, Creative Proteomics has a good reputation in supporting the detection and quantification of a variety of lipids. Based on a highly stable, reproducible and highly sensitive separation, characterization, identification and quantitative analysis system, combined with LC-MS/MS, we provide reliable, fast and cost-effective LPE O- analysis services. If you have any questions about our LPE O- targeted lipidomics services, please contact us.
* Our services can only be used for research purposes and Not for clinical use.
Services:
Resource:
Platform: