Creative Proteomics has developed a reliable and reproducible method using highly sensitive LC-MS/MS method for the rapid identification and quantification of CerEOH in skin sample, which can satisfy the needs of academic and industrial study in your lab.
Overview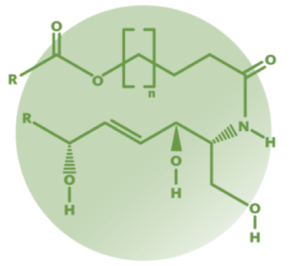 Omega-hydroxy-fatty acids [EO] 6-hydroxy-sphingosine [H] ceramide (CerEOH or EOH) is a subclass of acylceramides. Most of their structures are composed of 6-hydroxysphingosine and fatty acids. CerEOH ceramide is essential for the lamellar phase of the epidermal barrier function, which prevents transepidermal water loss and protects the environment. Abnormal skin ceramide levels can cause or cause skin conditions. Decreased EOH ceramide levels are associated with psoriasis and dry skin. In addition, the EOH lipids in albino African skin are increased.
The combination of MS instrument and liquid chromatography (LC) can effectively separate target lipid molecules from complex samples. CerEOH samples, collected by tape stripping of human skin, were analyzed by highly sensitive LC-MS/MS method in Creative Proteomics. Tape stripping is an almost non-invasive method with the benefits of controlling the sampling depth and collecting comparable sample amounts. This enables collecting a high number of samples and allows screening and biomarker studies, increasing much needed statistical validity of results and conclusions.
Advantages of our CerEOH analysis service
Creative Proteomics provides comprehensive services from prepare the samples, run the mass spectrometric analysis, process the data, perform statistical analysis, and identify the compounds.
A detailed report will be provided at the end of the whole project, including the experiment procedure, MS/MS instrument parameter, raw data and data reports with figures, ready to be published.
Our project is a very complex study that requires a high degree of sensitivity and accuracy. Creative Proteomics has molecular biologists, mass spectrometry specialists, bioinformatics experts, and lipidomics data scientists. We are well-prepared and positioned to foster collaboration in the fast-developing field of lipidomics.
List of detectable CerEOH at Creative Proteomics
Our Process

Fig1. The protocol workflow of CerEOH targeted lipidomics (Creative Proteomics)
Structural details: species level
Precision: pmol & mol%
Variants identified: >10
Delivery time: 3-6 weeks
Deliverables
Experimental procedure
Parameters of liquid chromatography and MS
Purity analysis report
MS raw data files and MS data quality checks
Hexylceramide quantitative result data
Custom analysis report
Based on a highly stable, reproducible and highly sensitive separation, characterization, identification and quantitative analysis system, combined with LC-MS/MS, we provide reliable, fast and cost-effective CerEOH analysis services. If you have any questions about our CerEOH targeted lipidomics services, please contact us.
* Our services can only be used for research purposes and Not for clinical use.
Resource:
Platform: