Creative Proteomics has developed a reliable and reproducible method using highly sensitive LC-MS/MS method for the rapid identification and quantification of CerEOS in skin sample, which can satisfy the needs of academic and industrial study in your lab.
Overview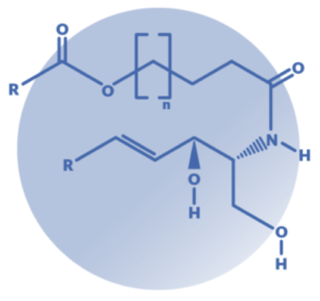 Omega-hydroxy fatty acids [EO] Sphingosine [S] Ceramide (CER[EOS] or EOS) is a subclass of acylceramides. They are composed of sphingosine bases (especially sphingosine) and fatty acids. The fatty acids are omega-hydroxy fatty acids and can be variable length, hydroxylated and contain double bonds. Recent studies have reported that EOS ceramide is very important for the lamellar phase of the epidermal barrier function. It can prevent transdermal water loss and protect it from environmental factors. Skin ceramide imbalance can cause or promote the development of skin conditions, and lower EOS levels are related to atopic dermatitis, psoriasis and dry skin.
CerEOS samples, collected by tape stripping of human skin, were analyzed by highly sensitive LC-MS/MS method in Creative Proteomics. Tape stripping is an almost non-invasive method with the benefits of controlling the sampling depth and collecting comparable sample amounts. This enables collecting a high number of samples and allows screening and biomarker studies, increasing much needed statistical validity of results and conclusions.
Advantages of our acylceramides analysis service
Creative Proteomics has established sensitive, reliable, and accurate LC-MS method for quantification of CerEOS targeted lipidomics.
We will use our expertise to help you interpret the results and provide you with actioable recommendations on how to utilize these results in your research or business.
Creative Proteomics full-service facility provides data processing (e.g., data alignment, feature detection), feature prioritization (e.g., principal component analysis, heat maps, ANOVA/t-test, multivariate statistical analysis, self organizing maps, volcano plots, and network activity prediction), and lipid identification services.
List of detectable CerEOS at Creative Proteomics
Our Process

Fig1. The protocol workflow of CerEOS targeted lipidomics (Creative Proteomics)
Structural details: species level
Precision: pmol & mol%
Variants identified: >10
Delivery time: 3-6 weeks
Deliverables
Experimental procedure
Parameters of liquid chromatography and MS
Purity analysis report
MS raw data files and MS data quality checks
Hexylceramide quantitative result data
Custom analysis report
Based on a highly stable, reproducible and highly sensitive separation, characterization, identification and quantitative analysis system, combined with LC-MS/MS, we provide reliable, fast and cost-effective CerEOS analysis services. If you have any questions about our CerEOS targeted lipidomics services, please contact us.
* Our services can only be used for research purposes and Not for clinical use.
Resource:
Platform: