Hydroxy-Eicosatetraenoic Acids Analysis Service
Creative Proteomics has developed a reliable and reproducible method using highly sensitive LC-MS/MS method for the rapid identification and quantification of hydroxyeicosatetraenoic acids (HETEs) in different sample types, which can satisfy the needs of academic and industrial study in your lab.
Overview
Arachidonic acid can be oxygenated by a variety of different enzymes, including lipoxygenases, cyclooxygenases, and cytochrome P450s, and can be converted to a complex mixture of oxygenated products as a result of lipid peroxidation. The initial products in these reactions are hydroperoxyeicosatetraenoic acids (HpETEs) and HETEs.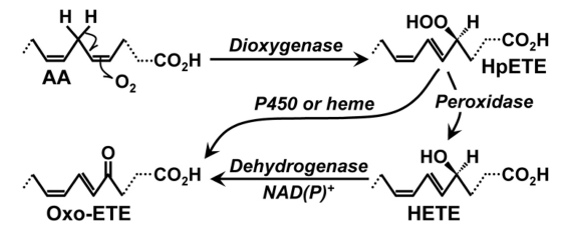 Fig 1. Biosynthesis of HETEs from AA (Powell et al., 2015)
It is now widely recognised that HETEs have important physiological and pathological functions that modulate ion transport, renal and pulmonary functions, vascular tone and reactivity, and inflammatory and growth responses. They can be released during the action of growth factors and cytokines, reaching physiological concentrations higher than that of prostanoids and modulating the functions of these factors. Their effects can occur through receptor or non-receptor mechanisms. Some studies found HETEs played a important role in apoptosis, angiogenesis, the proliferation of cancer cells and metastasis, which constitute a potential area for successful therapeutic intervention.
A liquid chromatography-tandem mass spectrometry with triple quadrupole mass analyzers operating in multiple reaction monitoring (MRM) scan mode (LC-MS/MS) has been developed in Creative Proteomics, which allows the simultaneous quantification of 12S-HETE, 12R-HETE, 15R-HETE, 15S-HETE, 5R-HETE, 5S-HETE, 8R-HETE, 8S-HETE, which are structural isomers.
Advantages of Our HETEs Analysis Service
Creative Proteomics establishes different experimental schemes according to customer needs and provide one-stop service from lipid extraction, lipid detection and data analysis, which only takes 2-4 weeks.
With integrated set of separation, characterization, identification and quantification systems featured with excellent robustness & reproducibility, high and ultra-sensitivity, Creative Proteomics provides reliable, rapid and cost-effective HETEs lipidomics services.
Creative Proteomics full-service facility provides data processing (e.g., data alignment, feature detection), feature prioritization (e.g., principal component analysis, heat maps, ANOVA/t-test, multivariate statistical analysis, self organizing maps, volcano plots, and network activity prediction), and lipid identification services.
List of Detectable HETEs at Creative Proteomics
| | | | |
| --- | --- | --- | --- |
| 12S-HETE | 12R-HETE | 15R-HETE | 15S-HETE |
| 5S-HETE | 8R-HETE | 8S-HETE | 5R-HETE |
Our Hydroxy-Eicosatetraenoic Acids Analysis Service

Fig 2. The workflow of hydroxyeicosatetraenoic acids analysis
Structural details: species level
Mode: MRM
Precision: pmol & mol%
Delivery time: 2-4 weeks
Sample requirements
Blood/plasma: 100-200 ul/sample
Cells: 1x107/sample
Deliverables
Experimental procedure
Parameters of liquid chromatography and MS
Purity analysis report
MS raw data files and MS data quality checks
Hexylceramide quantitative result data
Custom analysis report
With years of experience in lipidomics analysis services, Creative Proteomics has a good reputation in supporting the detection and quantification of a variety of lipids. Based on a highly stable, reproducible and highly sensitive separation, characterization, identification and quantitative analysis system, combined with LC-MS/MS, we provide reliable, fast and cost-effective HETEs analysis services. If you have any questions about our hydroxy-eicosatetraenoic acids targeted lipidomics services, please contact us.
Reference:
Powell, William S.; Joshua Rokach. Biosynthesis, biological effects, and receptors of hydroxyeicosatetraenoic acids (HETEs) and oxoeicosatetraenoic acids (oxo-ETEs) derived from arachidonic acid. Biochimica et Biophysica Acta (BBA)-Molecular and Cell Biology of Lipids. 2015, 1851.4: 340-355.
* Our services can only be used for research purposes and Not for clinical use.
Services:
Resource:
Platform: