Hydroxycholesterols Analysis Service
Hydroxycholesterols are mono-oxygenated derivatives of cholesterol. In vivo, hydroxycholesterols are present as unesterified (biologically active) and esterified forms (largely biologically inert).
Hydroxycholesterols are important intermediates in a number of catabolic pathways that regulate a variety of biological effects.
Hydroxycholesterols are critical for cholesterol transport from the periphery to the liver, regulate the expression of sterol sensitive genes which are involved in lipid and sterol biosynthesis, act as substrates for the formation of bile salts, serve as ligands that activate nuclear liver X receptors-α and -β, and are involved in the regulation of cholesterol and lipid metabolism and homeostasis.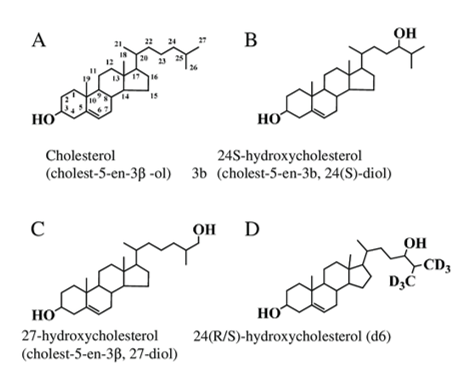 Fig 1. Structural representation of hydroxycholesterols (Bandaru et al., 2014)
In the central nervous system, hydroxycholesterols regulate arachidonic acid release, voltage-gated calcium channels, synaptic plasticity, induce IL-8, promote neurogenesis and induce apoptosis.
Creative Proteomics provides comprehensive hydroxycholesterols analysis services from lipid extraction, lipid detection and data analysis for biomedical research institutions, biotechnology and pharmaceutical companies.
Our Hydroxycholesterols Analysis Service
Absolute quantification: Use external standard method to quantify, and use internal standard for correction, qualitative and quantitative is more accurate.
High sensitivity: We use liquid chromatography coupled with triple quadrupole mass spectrometers for hydroxycholesterols analysis service (Triple Quad™ 6500 LC-MS/MS System).

Fig 2. The workflow of hydroxycholesterols analysis service
Sample Requirements
Plasma
Tissue
Cells
Feces
Normal volume
200 μL
100 mg
2E7
80mg- human
40mg-rodent
Minimum volume
100 μL
50 mg
5E6
50mg-human
30mg-rodent
Why Choose Us?
With integrated set of separation, characterization, identification and quantification systems featured with excellent robustness & reproducibility, high and ultra-sensitivity, Creative Proteomics provides reliable, rapid and cost-effective hydroxycholesterol analysis services.
Tailor extraction protocols and derection methods to target different needs of customer.
Creative Proteomics full-service facility provides data processing (e.g., data alignment, feature detection), feature prioritization (e.g., principal component analysis, heat maps, ANOVA/t-test, multivariate statistical analysis, self organizing maps, volcano plots, and network activity prediction), and lipid identification services.
If you have any questions about our hydroxycholesterols analysis services, please contact us.
Reference:
Bandaru V V R.; Haughey N J. Quantitative detection of free 24S-hydroxycholesterol, and 27-hydroxycholesterol from human serum. BMC neuroscience. 2014, 15(1): 137.
* Our services can only be used for research purposes and Not for clinical use.
Services:
Resource:
Platform: